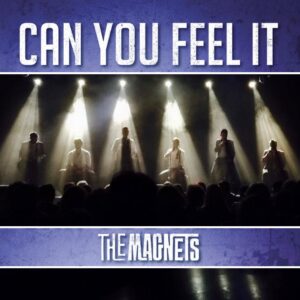 After a couple of warm-up shows last month in Germany, 2017 kicks into top gear for The Magnets this week with a double whammy; the launch of our Adelaide Fringe Festival run and the release of our new album Can You Feel It.
Our show at Adelaide's beautiful Garden of Unearthly delights opens this Friday 17 Feb with a line-up of truly virtuosi vocal talent. Now also called Can You Feel It, it's going to blow the roof off our venue until 19th March. Get tickets HERE.
We are also delighted to be releasing a fifth official album, our first since 2013's All This Time. It'll be for sale on CD for the first time in Adelaide and will be appearing online internationally (US and Japan excepted) from the end of this week – distributor efficiency permitting! The order link for iTunes is already available here.
The album features live classics recorded for the first time such as Smoke on the Water and Lost in Music plus the best from our current show, including Minnie the Moocher, Feeling Good, Jolene, Lay Me Down and Uptown Funk. It's a feast of great singing with contributions from most of the boys who have peformed with us over the last 18 months; Damion Scarcella, Michael Conway, Duncan Sandliands, Hobbit, Ball-Zee, Nick Girard (also the producer), Cameron Jones (who we are proud to say is just about to make his West End debut in Motown) and of course stalwarts Michael Welton and Callum McIntosh. We're really looking forward to everyone hearing them for the first time on a Magnets recording.
So who will you be seeing if you are lucky enough to be in Adelaide? From left to right on the poster…
Duncan Sandilands – Our bass-hunk, also a life-guard so he'll be keeping the boys safe of those lovely Adelaide beaches!
Callum McIntosh – Once the new boy, now a veteran, Cal has been ever-present in our Adelaide Fringe shows and is even dating an Adelaide girl!
Billy Boothroyd – Billy first sang with us on our Adelaide 2013 run, and there are more than a few people looking forward to hearing his gorgeous tones on his return to the ranks.
Damion Scarcella – Damion's from Melbourne so he'll be right at home back in Oz, no doubt finding some good new lines for his trademark on-stage banter.
Michael Conway – Our squeaky, cheeky Welsh high-tenor with a voice worthy of his heritage. Michael's lovely family are coming out with him so look out for his super cute son running riot in the Gardens
Ball-Zee – Nothing less than a beatboxing legend, Ball-Zee has myriad vocal effects at his disposal, with on-stage charisma to match. If you need proof just check him out on Facebook!
If you go early enough you might also see Nic Doodson lurking at the back in a production capacity. Mikey is sitting this one out at home with his family in freezing Manchester, writing posts like this!
Beyond Adelaide
2017 is gradually unfurling, We'll be releasing information about trips to India and China soon, and this summer's Edinburgh Fringe and hopefully more UK festival dates. In the meantime we hope you enjoy our new album. Keep an eye on our social media channels for release information!